Welcome to the gentle, humble and talented yoga teacher, Alissa Price.  We are so fortunate to have share her wisdom and years of practice with us at The Sanctuary!
Alissa has the gift of being able to take her class on their own unique journey toward quiet.  She is so subtle and thoughtful in her approach, that you may even miss how all of a sudden, the effort of your past day and worry about tomorrow has melted away and all that is left is QUIET.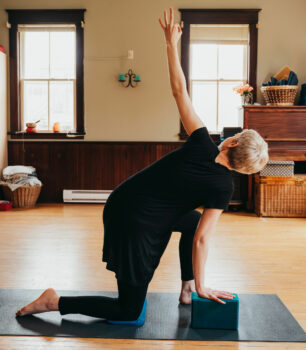 ABOUT ALISSA…
Alissa's unexpected launch into well-being was first sparked by her own personal health crisis, although it would take her several years to make her way to the yoga mat. When faced with the immense challenge of acceptance and letting go, it became clear: she really had no idea how, and she was suffering because of it. Her introspective nature drew her to complete a two year program in spiritual formation and practice, Jungian psychology, and eastern and western mysticism in a monastic setting. Although this knowledge and experience gave her insight, it was finally settling onto the mat with yoga that actually helped her feel better.
To understand this more personally she entered into a year of quiet, exploring the less familiar aspects of yoga: contemplation and meditation, and the deeply healing restorative practice, the "Yoga of Being." With this grew her love for what heals us and inspired a further pursuit into therapy-based Yoga Teacher training (300hr), and Restorative Yin Yoga training (20hr) at Yoga Therapy Toronto. She continues to study mindfulness-based practices, along with the therapeutic use of massage and yoga.
Outside of the studio, Alissa works professionally as an interpreter in medical and mental health settings. Alissa tends towards the quiet; her approach is calming, gentle, and restorative. Her classes are well suited for those looking to balance out the busy demands of life with rest, tend to physical, emotional or psychological stress and recovery, and explore pertinent themes of connection and meaning. All abilities are welcome. Please join Alissa Monday evenings at 7pm for the Restorative Yoga class, or contact the Sanctuary to book a private restorative session that is tailored to you.