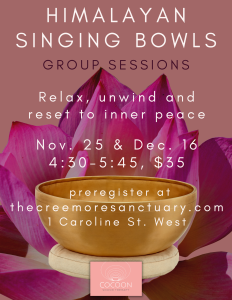 Join LisaKristine of Cocoon Sound Therapy on Saturday November 25th and/or December 16th from 4:30-5:45pm. Let the singing bowls gently lull you into a state of passive relaxation, invite you to unwind your busy mind and body and usher you softly toward your most natural state of inner peace.
The Sanctuary will welcome you with thick mats, bolsters & blankets and its peaceful, timeless setting.  Bring yourself and/or any extras that support your relaxation.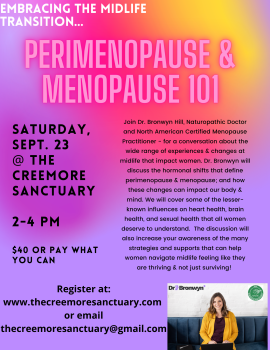 Saturday, Sept 23: Perimenopause + Menopause 101!
Join Dr. Bronwyn Hill, Naturopathic Doctor and North American Certified Menopause Practitioner – for a conversation about the wide range of experiences & changes at midlife that impact women. Dr. Bronwyn will discuss the hormonal shifts that define perimenopause & menopause; and how these changes can impact our body & mind. We will cover some of the lesser-known influences on heart health, brain health, and sexual health that all women deserve to understand. The discussion will also increase your awareness of the many strategies and supports that can help women navigate midlife feeling like they are thriving & not just surviving!
Register for Perimenopause + Menopause 101 with the link below or email thecreemoresanctuary@gmail.com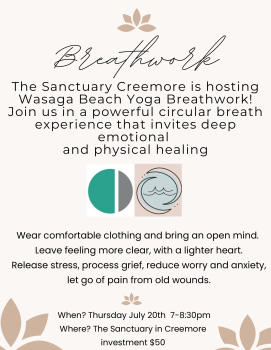 June 20 – Breathwork with Wasaga Beach Yoga
Join Sinead of Wasaga Beach Yoga for a powerful circular breathing practice which invites deep emotional and physical healing. Access the deeper layers, allowing you to release stress, process grief, reduce worry and anxiety and let go of pain from old wounds. Wear comfortable clothing and bring an open mind.
Cost = $50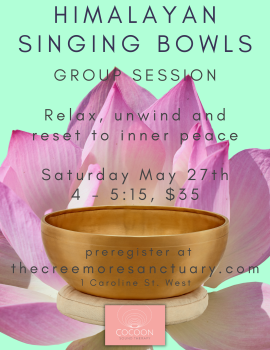 The Art of Qi Gong